After the outbreak of the First World War in 1914, Gray joined the 4th (Dundee) Battalion, The Black Watch Regiment and fought with them from August 1914 to March 1916, in the battles of Neuve Chapelle, Festubert and Loos.
He was one of a number of journalists who joined the 4th Battalion in the early stages of the war. They referred to themselves as 'Fighter-Writers' and Gray is mentioned in the autobiography of one, William Linton Andrews. (The Autobiography of a Journalist, 1964 pp82-83).
"Presently, to my immense joy, some of my office colleagues joined. We kept together as much as we could and called ourselves 'the Fighter-Writers'… By those who met me for the first time it was regarded as one of my peculiarities that I spoke with an English accent. My occasional reading of foreign newspapers inspired rumours that I must be a German agent. A company commander, Captain Boase, sent for me to put these suspicions to the test… A friend who joined a little later, Joseph Gray, an English artist, fell under the same suspicion because he had a Northumbrian accent and could speak German."
Once he reached the trenches Gray's talents as a draughtsman were quickly recognised. Captain Boase appointed him his observer, a role which involved countless expeditions into the firing zone to make sketches of enemy positions. He was also                                                                         called upon to duplicate trench maps, as he did before the Battle of Festubert, marking                                                                  out the positions of the men of his battalion.
During 1915-1916 Gray sent back many reports to the Dundee Courier but was eventually invalided out of service in March 1916 after suffering bouts of trench fever and being wounded by sniper-fire.
He was then appointed official war artist to The Graphic illustrated newspaper and regularly contributed drawings and articles on different aspects of trench life. All his drawings were based on original sketches made in the firing line.
In 1916 he married a local girl, Agnes (Nancy) Mary Dye and moved to 14 Kerrington Crescent, Barnhill. They had one daughter, Alice Maureen, born in June 1919.
Gray wrote The History of the 4th Black Watch, published in some 31 instalments in the Dundee Advertiser between 3rd December 1917 and 7th January 1918. A stickler for accuracy, he worked from  his own recollections and other eyewitness testimonies, intending it as both a history and a tribute to the men with whom he had served: "The Fourth Black Watch in the first weeks of the war was the battalion through which above all others the sons of Dundee and environs rallied to the colours," he wrote. 
"Although many hundreds of gallant men from this corner of Scotland have found their way into other regiments and other services, it is the Fourth Black Watch that essentially personifies for us both the splendour and sorrow of our sacrifice. Individually we may follow the fortunes of other units, but in the Fourth, the whole city finds glory in victory and grief in adversity."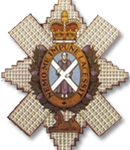 To learn more of the Black Watch visit
The Black Watch Castle & Museum website.