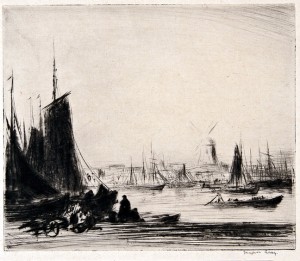 In the mid-twenties the Grays moved to Westbrook, Brook Street, Broughty Ferry, which had both a studio and a printing room. Before the move Gray concentrated on paintings of wartime subjects, but he now hoped to find new inspiration elsewhere and travelled overseas – to Holland, Spain and Belgium. He began etching serene, mostly unpeopled landscape scenes.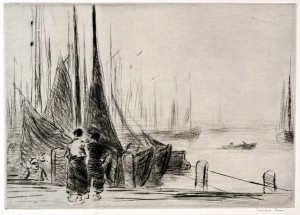 Gray's etchings and drypoints were widely exhibited and reproduced, and sold well both at home and in America. In the decade 1925-1935 he produced some 50 plates, mainly drypoints. The majority of his drypoint engravings depicting architectural or landscape views. Printed in signed editions of seventy-five impressions, they were published in London by Harold Dickens and entered into many public collections including the Victoria and Albert and the British Museums.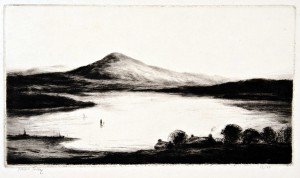 But as the decade advanced Dundee sunk into depression. Print sales declined, and in 1929, after the stock market crash, the American market disappeared overnight. Finding little or no work locally, Gray moved with his family to London in 1931, planning to reinvent himself as a portrait painter, since his war commissions had always been praised for the accuracy of their depictions.